If you currently own a hotel and you're seriously considering selling it, there are two basic ways of going about it:
Throw it on the market and hope for the best
Do your research, prepare diligently, and approach the sale strategically
For simplicity's sake, we'll call option #2, "the smart way." That's how you're going to maximize your profit, minimize the hassle, and ensure a smooth sales process. If you're comfortable going with option #1, you can stop reading right here.
The key to selling a business the smart way
To make the most of the sale of your business, you need to approach every aspect of that sale just like your prospective buyer.
That means stepping outside your standard role as know-it-all owner and looking at your business through the eyes of a prospective hotel buyer, with none of the sentimentality or easy excuses we so often use to whitewash potential problems.
A new buyer isn't going to give the cook a pass on his salty cookies just because "he's been with us forever." Likewise, a new buyer isn't going to swallow a consistent operating loss every February just because "that's how it's always been." You'll need to look at everything with an eye on facts, figures, and opportunities for improvement.
Do your research
While you may know your hotel better than anyone else, there's still plenty you need to learn if you're going to sell it the smart way.
Industry and competitive benchmarking
Among the first items that should appear on your research to-do list is an updated overview of the hotel industry in your area. This will include an evaluation of the local competition, as well as benchmarking similar properties in similar areas to determine how your hotel stacks up.
This isn't just an exercise in ego-boosting. Although you're hopefully going to dig up some solid evidence that your property is among the best in the area, there's also a chance you'll identify areas of improvement or incongruity that should be addressed. Both of these results are valuable, but the areas for improvement can actually edge the positive results because addressing them can actually increase your hotel's value in the eyes of a buyer rather than just helping justify the value it currently has.
Building a team of advisors
Leveraging the help of business sale professionals to carry out and analyze this research can be invaluable, especially if you're not an expert. While it's more common to bring a team in nearer the actual transaction, an experienced business broker, accountant, attorney, and commercial real estate broker can all add tremendous value to the research phase of the sales process.
This is where you'll want to come up with an updated valuation for your hotel, incorporating the physical property, building, furnishings and other assets, as well as less tangible assets like your brand equity, customer loyalty, and established business relationships. Every member of the advisory team can offer insight on a well-rounded valuation.
Prepare diligently for the sale
Once the research phase is done, you should have a solid list of facts about your hotel business that will make it attractive to prospective buyers, and a list of elements that can use improvement. During the preparation phase, you'll be addressing these lists in priority order to accentuate and boost the value and attractiveness of your hotel for once it finally goes on the market.
Accentuate the positive
For any items where your hotel appears to be superior to others around you, this is the time to solidify that position by putting systems and procedures in place to ensure your entire staff is aware of (and actively maintains) those features. It would make sense to incorporate them into your ongoing marketing efforts as well.
Eliminate the negative
To the greatest extent possible, attack every area for improvement in priority order with an emphasis on low-hanging fruit — those improvements that are fairly quick and inexpensive to accomplish, but which have a profound effect on the perceived value of your hotel — first. An excellent example of low-hanging fruit is making cosmetic improvements, especially in and around the entranceway and lobby areas where curbside appeal will dictate first impressions. 
Get records and paperwork in order
One of the first and most important things a serious buyer is going to want to see is your hotel's business, legal, and financial records. With the help of your attorney and accountant, make sure all records are neat, legible, easily accessible, updated, and error-free. Be sure they reflect the very latest versions of recurring inspections and licensing so the buyer knows the property is currently usable as intended. A smart buyer will likely have their own lawyer and/or accountant review the paperwork as well, so don't rely on ignorance to cover up gaps in the records.
Approach the sale of your hotel strategically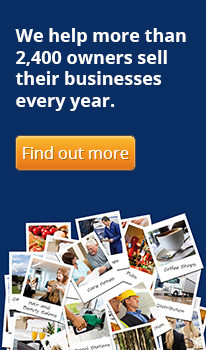 Having done a great deal of preliminary research and preparation, the point at which you actually list your hotel for sale and start meeting with prospective buyers is not where you want to start shooting from the hip.
Rather, just like every other business decision that's led you to this point — with a successful hotel in peak salable condition — you'll want to approach the listing and marketing of your hotel for sale in a strategic way.
Don't try to go it alone
While it may be tempting to boost the eventual profit margin by minimizing your expenses leading up to the sale, the service of a talented business broker always pays for itself (and then some). If you wisely worked with a broker in the initial research and planning stages, it only makes sense to let them see you through the final sale. Their expertise, connections, and negotiating skills will result in a higher sale price, more attractive terms, and a faster transaction than you'd accomplish on your own.
Use an online business listing service
Nearly all purchase decisions begin online these days, and buying a business is no different. For the relatively insignificant cost, listing your hotel on an online business database frequented by prospective buyers is a low-risk/high-reward decision. is one of the largest business listing services available, with over 1.5 million buyers and a simple, one-fee package price that makes the decision quick and easy.
Leverage offline marketing too
While you're not going to want to widely advertise to your current and future guests the fact that your hotel is on the market, you will want to explore targeted industry trade magazines, business publications, investment newsletters, and other offline opportunities for making prospective buyers aware of your hotel's availability. Don't discount the possibility of someone from within your own network of colleagues taking an interest: perhaps a competitor likes the idea of expanding their operation by taking over yours. Or, perhaps a local real estate investor is looking to diversify and a hotel property is just the thing they've been after.
If you're interested in selling your hotel for its maximum value and want the transaction to go quickly and smoothly, follow the simple but powerful suggestions outlined above. By selling your hotel the smart way, you can ensure you walk away from the sale with the best possible deal for everyone involved.