Coffee shop ownership can be a fulfilling way to connect to the community. Whether you're serving customers, hosting local events, or simply marveling at the conversations taking place in the corner of the room, coffee shops are one of the few places on Earth people choose to congregate in person in the 21st century.  
With minimal startup costs and little overhead, coffee shops are appealing to a large variety of buyers. From first-time business owners, to entrepreneur veterans looking to diversify their assets, coffee shops are a popular, low-risk business to own. This is good news for those looking to sell, and we're here to spill the beans on getting the best, most fair, price for your coffee shop.
How to market your coffee shop
Your greatest challenge when selling a coffee shop will likely be setting yourself apart from the competition. As you probably know by now, it is very easy to get lost in the shuffle within this industry.
You will never compete with the international players. You will never do Starbucks numbers. In fact, nearly 70 percent of the market belongs to the top three coffee chains: Starbucks, Dunkin' Donuts, and Tim Hortons. That's just a fact, but that doesn't mean your business isn't valuable.  
You need to discover what sets you apart and come to the table with a compelling case as to why a buyer should go local rather than open up a franchise. Don't be discouraged, because you have something those big brands could never offer: personality.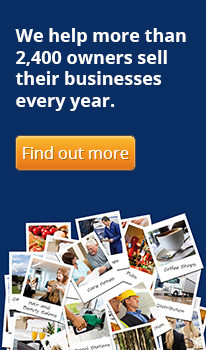 Coffee shops are — first and foremost — communal areas. As far as hangout potential goes, no other business comes close to coffee shops. This is a major advantage for local shops, because in America coffee shops are cultural hubs — places to meet, talk, or just hang out. People will typically choose, and even seek out, a coffee shop with a "vibe" over a chain. This is an area where a small or locally owned business can thrive compared to a major franchise. As you proceed with sales negotiations, don't undervalue the significance of a welcoming, unique atmosphere.
The value of business assets
You've done the hard part: you've found some potential buyers. Great, but don't stop short of the goal line. Now that you have some prospects on your radar, you need to figure out how much your business is actually worth.
Some important assets to consider when valuing a coffee shop include:
Location : Your location will be your greatest sales leverage. Period. Coffee shops are inextricably connected to their geography, and where you're located is a primary success factor. It's just how the industry works — people buy coffee on the go and, in most cases, whoever is most conveniently located wins the local market.
Customer base: Customer loyalty is everything. And customer affinity is very attractive to potential buyers. Most other assets can be bought and sold, but a lasting relationship with a customer base has to be earned. If you can highlight the importance of your coffee shop to the community at large, you have a golden ticket when it comes time to put pen to paper.
Equipment : Everything inside of your store has value too. That $5,000 commercial-grade espresso machine is worth consideration. Or the thousands of dollars you've spent on mugs, paper products, supplies, and more. Arguably your most valuable asset isn't even tangible: the coffee recipes. When you sell your coffee shop you are selling much more than just the building and beans.
If you take away one thing from the above let it be this: your company is worth more than just the coffee you brew. Physical and non-physical assets have monetary worth, and, whether you realize it or not, you've worked for years to build up the value of your business. Don't sell yourself short. You can also look at other similar businesses in this sector and see how they have been valued and how your business compares.
By now, all kinds of ideas are probably brewing in your head. Good! Use the tips outlined here to energize the sales process. Remember, you don't have to do it alone. Enlist the help of real estate, legal, and financial professionals to guide you through the sales process. A business broker can help track down prospects and ease contract negotiations. If you plan to still operate while you navigate the world of sales, it is essential to enlist help so people can handle the day-to-day operations while your team focuses on retaining your business's value.