Hawaii Fluid Art Franchise
Hawaii Fluid Art - Events Franchise
The Crafts & Hobby industry is worth $30 billion and is still growing. Hawaii Fluid Art is a business that changes daily, giving freshness and fun to every client & painting that leaves your premises.
Finance requirements

Franchise Fee:

$49,500

Minimum Investment:

$102,850

Areas Available

All States Except: California, Hawaii, Illinois, Indiana, Maryland, Michigan, Minnesota, New York, North Dakota, Rhode Island, Virginia, Washington, Wisconsin
Profile
The Art Company That Brings Fun To New And Experienced Artists Everywhere While Bringing Your Franchisee Dreams To Reality
If you love a party, you'll know there isn't much in life that beats hosting a fun event everyone can rave about to their friends. That's what Hawaii Fluid Art provides for its clients.
We are franchising our business model across the country and are reaching out to budding entrepreneurs like you – who have the drive to succeed, plus a love of art and the people who make it – to take the big step of taking your career in a new direction.
Our mission is simple:
We strive to inspire & nurture the human spirit, one painting at a time.
People come to us and, with great ease – even for those who feel they haven't an artistic bone in their body – create a painting that is theirs and would never have existed if they hadn't made it.
Hawaii Fluid Art runs art events for families, friends, neighbors, colleagues, etc. Watching and helping people create their own art pieces using our simple fluid art techniques makes this more than just another job. It's a chance to enjoy giving people the thrill that comes from making something utterly unique. You never know how each finished product will turn out, so each painting is special!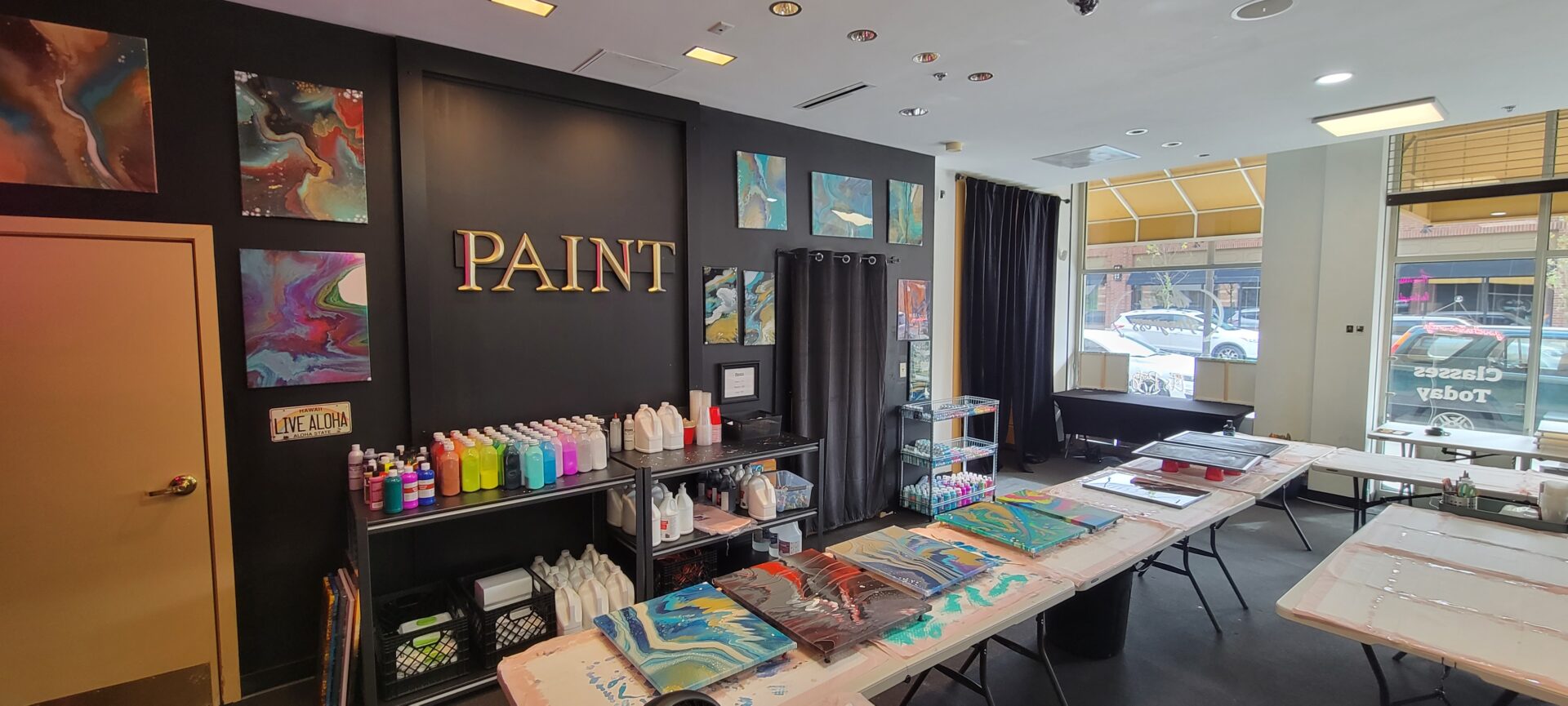 An Investment You'll Want To Make
Hawaii Fluid Art has a simple selling point: we run events and classes where people come to try the straightforward process of fluid art. It's a rewarding business, bringing you the joy of seeing people create art and enjoy the results, no matter their previous experience or skill.
We already have multiple franchise operators across several states, including Hawaii, Missouri and Texas, so you can rest assured we have a business model that works!
The Crafts & Hobby industry is worth $30 billion and is still growing. It puts you, as a franchisee, in a solid position to capitalize on instructor-led painting events and teach people the technique of fluid art.
You will be the boss of your company, but with the benefits that come from having a recognized brand name and all the ongoing support, training and experience we have reaped over the years.
Initial costs, materials and ongoing overheads make this a profitable business with solid ROI in a short space of time.
The multiple revenue streams available to you also mean that, as well as plenty of financial rewards, there is endless variety in your day-to-day work, including:
Different classes: one-on-one, schools, business events, small groups led by an instructor, churches, tourists, girls' night out, etc.
Various events: birthdays, date nights, parties, bridal showers, team building days, family get-togethers, etc.
Product sales: jewelry, art pieces, accessories, fashion apparel, DIY materials.
Repeat business: Every painting is unique, acrylic & resin, spiral paint, drop-in silk marbling, jewelry, multiple sizes.
Hawaii Fluid Art is a business that changes daily, giving freshness and fun to every client and painting that leaves your premises.
Other Benefits Include:
Comprehensive training & guidance.
Pre-opening training & introduction to the fluid art techniques, processes, general business management, purchasing, painting instruction and job functions.
On-site support for your launch so your business attains the best start.
Periodic on-site visits and phone/email communications keep you on track.
A confidential operating manual that details day-to-day operational procedures.
Part of a growing US brand, you have recognition from day one and a proven business model to follow.
Market and sampling materials for campaigns to get you noticed.
Access to discounted materials.
Strong social media presence, such as Facebook and Instagram.
What Does Hawaii Fluid Art Do?
We work with everyone, from an individual looking to try their hand at something completely new or a group celebrating a birthday or forthcoming wedding. Hawaii Fluid Art provides and prepares the canvas, smocks, paints and other supplies for the client(s) to create a unique piece of art they can take home with them.
All our instructors undergo a certified training process that informs them about color theory, process, and design, so they can help everyone who comes to them get the best from their experience.
Fluid Dynamics is the basis for our 'feel-good art'. Different pigments are made of different materials with their own textures, densities and weights. By mixing them in a similar fluid mixture, they push & pull on one another, creating a singular piece of colorful, beautiful art.
As we have opened more venues, we've blossomed into a franchise, sharing our business model and support with franchisees. You will find success on your own but as part of our brand. Your success is our success and vice versa!
Financial Requirements
Franchise Fee: $49,500
Royalty Fee: 8% of Gross Sales
Estimated Initial Investment Fee [incl. Franchise Fee]: $102,850 - $147,950