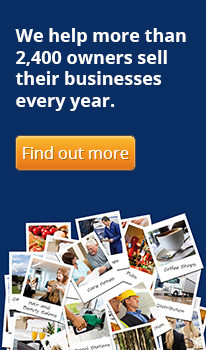 The advancement of online technology and communication tools has made owning a business accessible to a whole new demographic.
Before the Internet, only people with capital reserves, or a legacy headstart, could break into business ownership.
Today, entrepreneurship has never been easier to break into — all you need to run a business is a laptop and Internet connection. The accessibility, and profitability, of owning a website is evidenced by success stories such as Mark Zuckerberg or Peter Thiel.
That's the good news. Now for the bad news: there are over 644 million websites on the Internet today.
While not every website is direct competition, that figure should give you an idea of the current level of saturation in the market. That's not to say there isn't value to owning a website today — in fact, low overhead mixed with vast advertising opportunities makes for the perfect blend of ROI value.
Just be aware that with over half a billion websites on the Internet, making your Web-based business stand out should be your most pressing concern.
Find your niche and run with it
You might have the most beautiful, intuitive UI on the Web, but without a targeted audience, your website will surely fade into obscurity.
In order to rise above the competition, marketing to a niche audience should be one of your major concerns when running a website.
Put yourself in the shoes of a brick-and-mortar business owner when trying to establish an audience: who would happen upon your storefront and be compelled to come in?
What drew them in to begin with? Search engines are the shopping malls of the 21st century, and your search engine listing and metadata are your marquee. Consider your most prominent customer demographic, discover what they value, and bring those elements to the forefront for your search engine listing.
Without a devoted audience, your painstakingly crafted website will be like a beautiful but empty store in a deserted mall.
Monetize traffic
Once you have a regular audience visiting your site, you will need to monetize traffic. There are several ways to make money on your website:
Pay-Per-Click Contextual Ads — AdSense, a free service offered by Google, is the most popular iteration of this. It pairs website owners with relevant companies to advertise on websites. Site owners are paid a small amount every time an ad is clicked.
Sell your own product — Depending on the product or service you offer, there might be an opportunity to sell in-house. E-commerce website owners have an obvious way to monetize, but if your business is a little more nuanced then you will need to think outside of the box. Would your audience be interested in an ebook, tutorial, or software for a small fee? Get creative.
Donations — If you offer a service that consumers deem valuable enough, there might be an opportunity to bring in donations. In an age where a Kickstarter campaign for a watch raised 4,000 percent of its initial goal, donations should not be overlooked as a viable revenue stream.

Social media marketing
"One of the most important factors in sustaining and running a Web-Based Business is the ability to provide a number of channels that bring viewers to the site.
Social Media Management tools can automate a part of the progress efficiently and create a more active relationship with customers. These tools can simplify the process of engaging with customers by providing alerts that allow the business to respond more effectively towards both positive and negative feedback.
These tools also provide a form of information in terms of reports that can be used in bettering the specific product or service that's offered." explained by Alan Santillan at G2 Crowd

Test, Refine, Wash, Repeat
Once your site is doing well, it's time to tinker with it. That's right — there is no time to rest on your laurels when it comes to running a Web-based business. In order to stay current on ever-shifting online consumer trends, you will need to constantly adapt.
Nothing beats good, old-fashioned testing when it comes to remaining current and relevant in the online space. Run new offers, bundle various products and services, offer sales.
If you have a successful offer then run it every 30 days, otherwise, refine your processes and improve your offerings regularly when something doesn't work.
Ready to own a website? Learn more about what it takes to buy, sell or run a website.