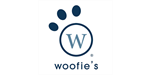 Woofie's - Pet Care Franchise
Woofie's is a leading pet care franchise specializing in pet sitting, dog walking, and mobile grooming, resulting in recurring revenue streams for business owners.
Territory Information
Location:

Atlanta
Franchise Fee:

$48,500
Other Areas Available

US markets available: All major markets available minus Ashburn, Sterling, South Riding, Reston Leesburg VA and Wilmington, Mooresville and Oak Island NC NOT available: Hawaii, Minnesota, South Dakota, Washington
Profile
Join this leading pet care franchise and help pet owners in your community
Meet Woofie's
Woofie's is a leading pet care franchise specializing in pet sitting, dog walking, and mobile grooming, resulting in recurring revenue streams for business owners. Woofie's began in 2004 in Ashburn, Virginia. Woofie's was founded by two neighbors, Amy Reed and Leslie Barron, the duo realized that this type of business didn't exist in their community and launched Woofie's to fill the need. The owners wanted to provide an upscale experience for their high-end clients.
In 2005, They were fully into the business, and they bought their first van in 2011 to get into mobile grooming and they started franchising in 2018, January 2022, they became a part of authority brands. Woofie's has received a lot of recognition as the face of franchising from the IFA, rated one of the topmost profitable and recognized for their innovative employee training. Woofie's primary mission is to offer a personalized and exceptional experience to their clients and pets.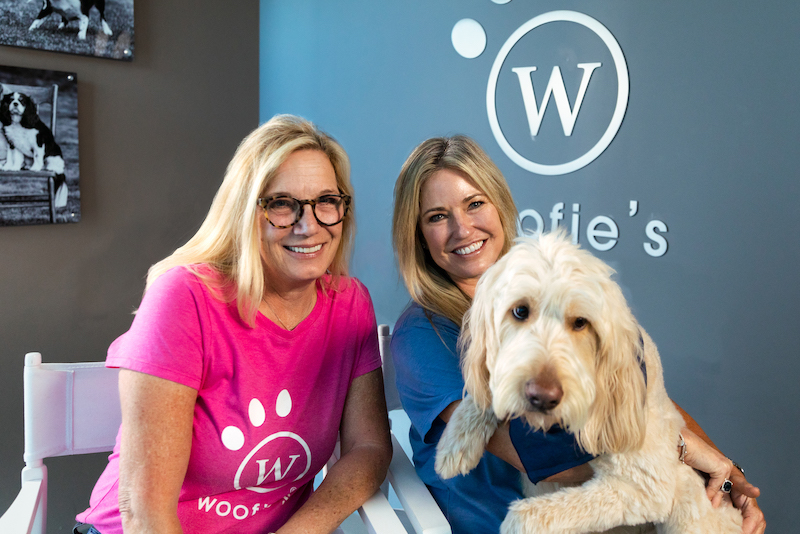 Woofie's has three recurring revenue streams: grooming, dog walking, and pet sitting. They work with all animals- not just dogs but cats, ferrets, fish, iguana, rabbits and more. Woofie's is a mobile pet grooming spa in which pet grooming is done in a van. Another revenue stream is overnight care and pet taxi. Overnight care can be in the client's home or at the pet sitter's home. Pet taxis are available for vet appointments and more. The mobile business model has many advantages including the ability to scale, free advertising, charging more for convenience, and more.
70% of households in the US have pets. Pet adoptions skyrocketed with the onset of COVID-19, increasing by 110% in 2020. The demand for their pet services has never been greater. Every year Americans spend over $100 billion dollars on them. This is a year-round business and there is very little competition. People love their pets like family! This business allows them to do something they have passion for with a great financial reward. Ready to help pet owners in your community by offering superior, mobile pet care? Join the team today!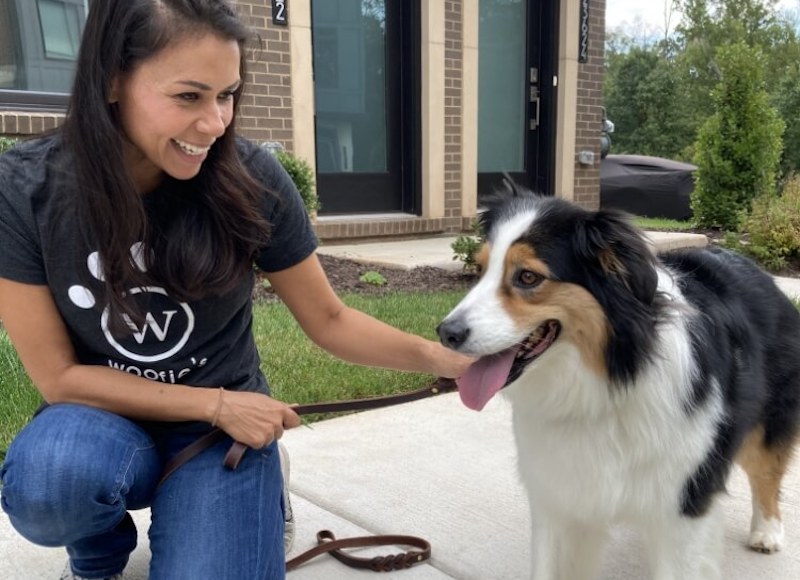 Why Choose Woofie's?
Integrated Technologies: Through the use of email, phone calls, text, and GPS tracking, your pet business staff will be able to respond to clients promptly and reach you should questions arise. Ultimately, this coordinated technology will allow you to know what is happening in the field, streamline processes, build client trust, ensure brand loyalty, and scale operations.
Loyalty Program: All Woofie's franchise owners are able to offer the Woof Pack Loyalty Program rewards, which gives our mobile pet grooming members exclusive promotional upgrades, gifts, and discounts. The program is designed to cultivate repeat clients and grow your business.
Community Leadership: As a Woofie's franchise owner, not only will you feel proud of your work but also of your company. Woofie's is committed to running an ethical, socially conscious business, with an obligation to give back wherever and whenever it can. This commitment means that your business will have a philanthropic presence in your market, one that your clients will appreciate.
Multiple Revenue Streams: The Woofie's pet care business concept makes us one of the only franchise opportunities that offers all three services - pet sitting, dog walking, and mobile pet grooming - in one business model. This unique edge will allow you to cross-sell services (such as grooming to walking clients or vice versa) to bolster your overall pet business growth. Additionally, these services are designed for recurring revenues through regularly scheduled walks and grooms.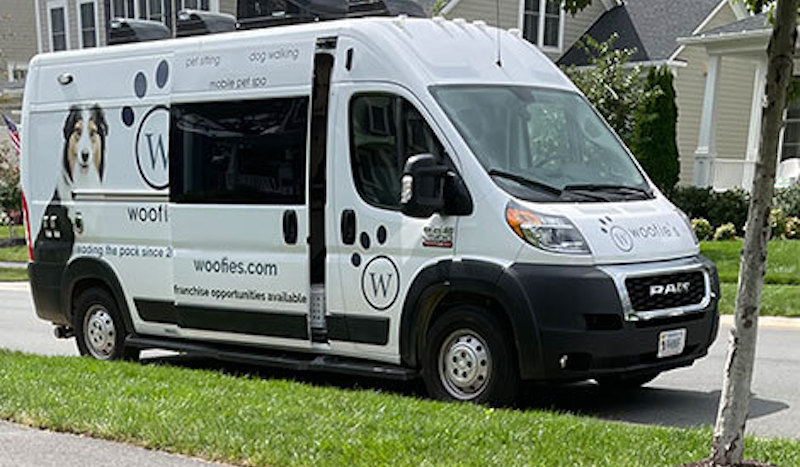 The Support We Provide
Training and Support Program Details:
2-Week Interactive Training Program: This hands-on, detailed training program is designed to ensure that our franchisees understand and implement our business model along with our standards of excellence.
Pre-launch and Grand Opening Marketing Assistance: We will collaborate with you to create effective local marketing campaigns and PR strategies.
Continued Marketing Support: We will assist you in developing and maintaining high local visibility through social and digital media platforms, as well as provide you with access to a variety of resources, content, and materials. You'll be included on our company website and will benefit from continuous PR and brand marketing campaigns.
Woofie's Academy™ professional grooming school creates career opportunities for employees and provides a pool of talented groomers for all franchise owners.
The Benefits We Offer:
Semi-Absentee Opportunity: Woofies Franchise Owners can run the business semi-absentee, focusing their efforts on scaling and overseeing high-level operations.
Quick Ramp Up and Home Based: Expensive retail space is not necessary, as you can work from home with a mobile grooming unit, which allows for quicker onboarding, and very attractive margins. Owners can get their business up and running in as little as 4-12 weeks from signing their agreement.
Increasing Demand in a Recession Resistant Industry: Pet adoptions skyrocketed with the onset of COVID-19.The demand for our services has never been greater!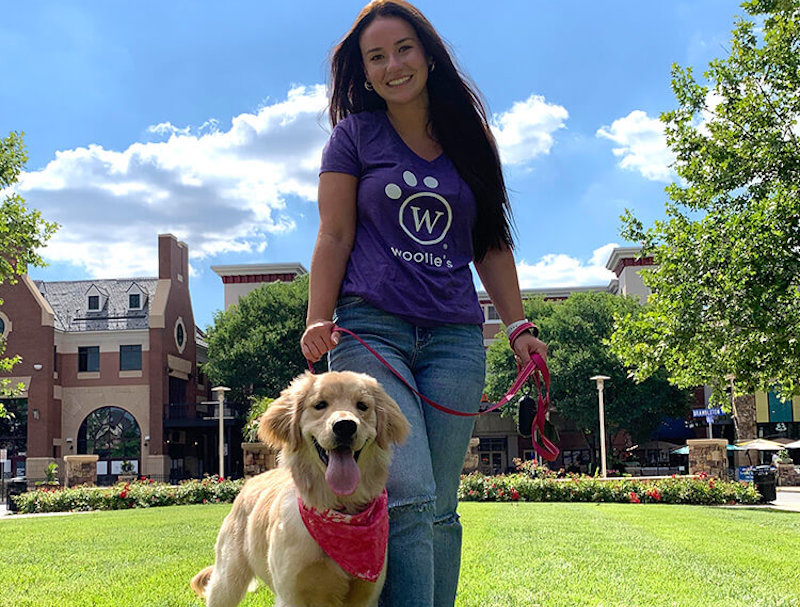 Franchisee Testimonial:
"Owning a Woofie's franchise is a dream come true! If you are passionate about pets, you could not find a better business in the pet industry than owning a Woofie's franchise!"
-Tanya Lee, Woofie's Franchisee
Financial Information:
Total Investment Required: $120,019 - $201,126
Liquid Capital Required: $ 80,000
Franchise Fee: (Included in Total Investment Required): $48,500 Veteran Discount: 30% of franchise fees
Net Worth Required
$350,000