WCH Service Bureau Franchise
WCH Service Bureau - Medical Billing Franchise
Build a profitable and powerful business in the medical billing market.
Territory Information
Location:

Jacksonville
Other Areas Available

USA
Profile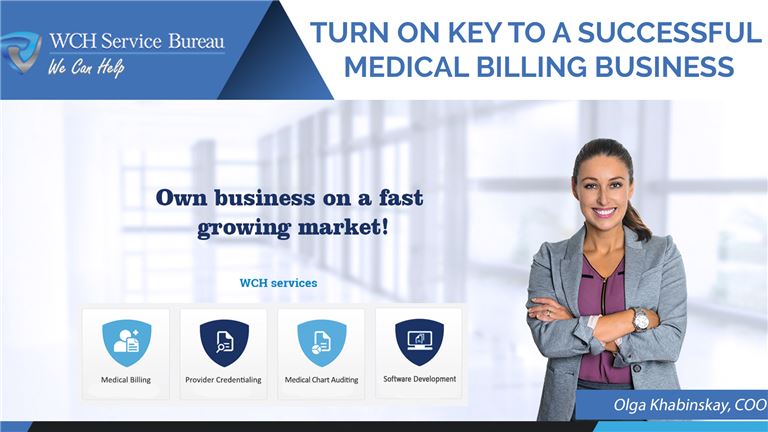 Own a business in a fast-growing market!
WCH Service Bureau® offers an excellent business opportunity to help you or your company significantly raise your income. We will help you to become profitable and powerful in the medical billing market.
Since 2001, WCH Service Bureau® is a leader on medical billing, software developing, audit, and credentialing markets. Continuous support and recommendations offered through our Franchise guarantee your company's position in the business community.
WCH Service Bureau® is distinguished by professionalism and knows all the features of running this business. We offer a ready-made business model and are ready to help you launch your business, to provide advanced and convenient software products developed by the WCH Team.
From the very start, unlike other companies WCH Service Bureau, Inc focused on sales and marketing department. We organized Call Center, created software programs, developed applications, and our database to conduct the business smoothly. This allowed us to identify the most effective methods of selling in the area. These methods are unique since we had to study everything on our own mistakes and financial loses. Now that the business strategies have been proven successful and the workflow has been perfected by meticulous attention to details, we are ready to share our experience with you.
Why WCH Service Bureau Inc franchise?
The franchise we offer is a ready-made and thought-out business model resistant to crisis. The model of the company that has been successfully operating in the market for decades and gained a recognizable name. It is a worthy project as it saves your time and investments.
Ongoing support and consultancies are among many other advantages of becoming WCH Service Bureau, Inc franchise. You will not have to learn how to do business spending decades on the learning process. Instead, you will get all the necessary knowledge and expertise from the franchisor.
After agreeing, the franchisee receives a package of documents, possibility to use the brand name and the company website, instructions on business development, and complete support system which includes:
The recognizable brand with high growth potential;
Developed and successful concept;
Solving issues related to cooperation with the insurance company;
Consulting and information support to franchisee in the process of work;
Software package for business automation and all the operations record;
Accompanying with specialists of WCH Service Bureau's by matters of billing, audit and credentialing services;
Marketing and other support from our part;
Maintenance at all the stages of building and running your business.
Our goal is to work closely with you and your employees to increase revenue. This will be implemented with the help of practical work concepts and necessary software programs which will form the basis of the franchise leading you to your financial success. Remember that Your Success is Our Success.