WCH Service Bureau Franchise
WCH Service Bureau - Medical Billing Franchise
Build a profitable and powerful business in the medical billing market.
Finance requirements

Minimum Investment:

$50,000

Areas Available

USA
Profile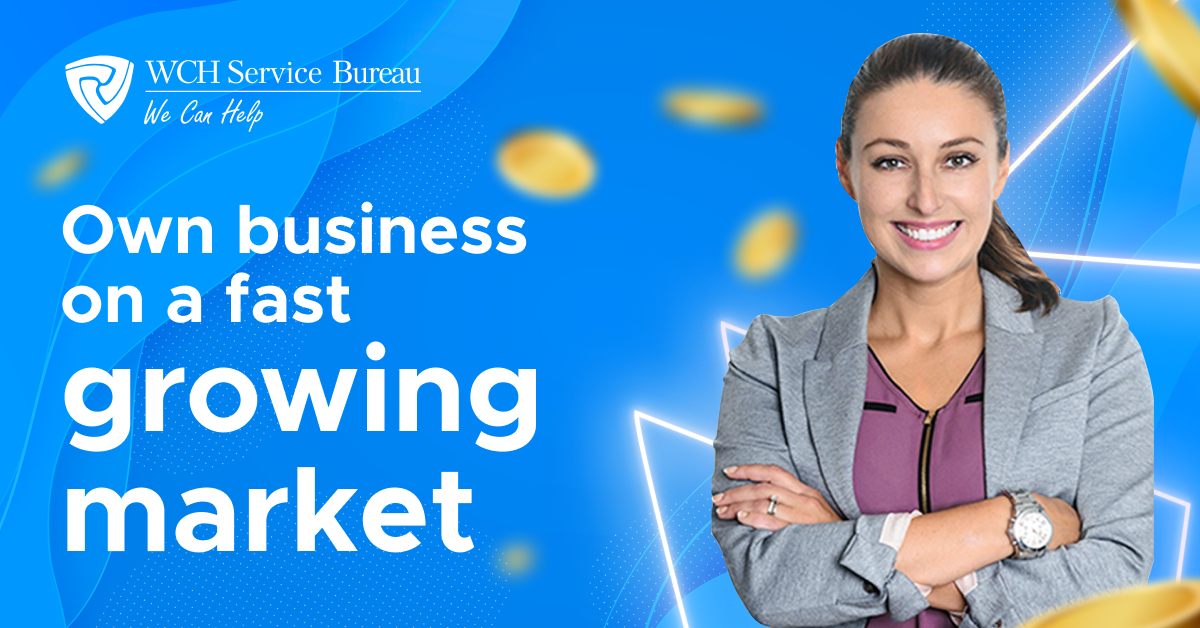 Own a business in a fast-growing market!
Overview
WCH Service Bureau is a treasure for those seeking to build & boost up their business quickly. We have over 20 years of experience in medical billing, credentialing, and medical software. Our proven track of professional achievements & recognitions, combined with a strong demand for our services, make us an attractive option to choose.
We value your fulfillment. WCH franchise is more than just a franchise for sale. It is an operational business model tailored for your needs. Not only do we help you to launch & facilitate your business in legal terms, but we also provide you with our top-quality software and additional training aimed to maximize your revenue. WCH will guide you through each process that you would soon benefit from, regardless of your knowledge of the industry.
We are a merit-based revenue generator. To put it simply, whether you will earn a fortune or not depends on how many clients are going to sign up for your medical billing, credentialing, and other services. A franchisee can earn up to $ 200,000 in the initial year, provided that a business attracts two new clients per month. However, your revenue may grow exponentially should you keep the pace. It is possible to earn up to $500,000 in the future.
Why Choose Us?
We are sophisticated. WCH Service Bureau is involved in every aspect of healthcare reimbursement, from an EHR software up to claim collection and credentialing processes. This all-inclusive approach has gained us a reputation of being a reliable partner of over 500 healthcare providers nationwide since 2001. As a franchisee, you will be able to use our brand, concept & website for your needs while also enjoying the following benefits:
Constant client support
Custom software packages
Mentorship
Marketing and other support from our partners
Business maintenance
An ability to stay "remote" during the first three months of an agreement – we do not require an office to be opened instantly.
Reimbursement is a highly complex aspect. It is critical for providers to keep their businesses running. Our Franchise allows you to constantly expand your business since the need for good medical billing and credentialing is constant.
WCH franchise gives you the opportunity to be competitive in a growing market because few businesses offer such a broad spectrum of services. It will provide healthcare practitioners with a full package of medical billing services, from simple claim submission to reconsiderations, appeals, and denials. Doctors will value your enterprise due to the wide variety of assistance. The companies that furnish as many services as possible are always in high demand.
Ideal Candidate
We would be happy to work with passionate entrepreneurs who are hungry for professional growth. We work with legal entities registered in the USA. WCH Service Bureau is looking for businesspeople eager to build up a strong team of individuals working in medical billing & credentialing.
History
WCH Service Bureau was founded in New York in 2001, in times of solid demand for a reliable practice management service among healthcare providers. We have never stopped monitoring the needs of our clients, and this is what has motivated us to improve. We have evolved into a multiservice enterprise providing billing, credentialing, chart auditing, customized medical software solutions, as well as education and training.
Training And Support
We are constantly in touch with our franchisees within a 60-day startup period, when we install & configure our software & train you on how to work with it. Besides, we also provide various consultations & create a website for you.
We install & instruct our franchisees on our software:
PMBOS
CredyApp
iSmartEHR
Time Management
Ready to realize your entrepreneurial spirit with our established business model? WCH Franchise is your guide to starting a steady & reliable enterprise in a swiftly growing industry. Do not wait – contact us!