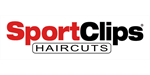 Sport Clips - Men's Hair Salon Franchise
For 25 years, Sport Clips Haircuts has been raising the bar in the men's hair salon industry.
Finance requirements

Franchise Fee:

$59,500 for 3 Licenses (Qualified Veterans receive a 20% discount)

Total Investment:

$224,800 - $373,300

Liquid Capital:

$200,000

Areas Available

USA
Profile
Sport Clips Haircuts offers owners a way to transition from their day job and pave a path to greater financial and personal freedom through investment in a simple, multi-unit, semi-absentee business model.
Overview
For 25 years, Sport Clips Haircuts has been raising the bar in the men's hair salon industry. It's a winning concept – a great haircut experience for men and boys' in a sports-themed environment, at a reasonable price.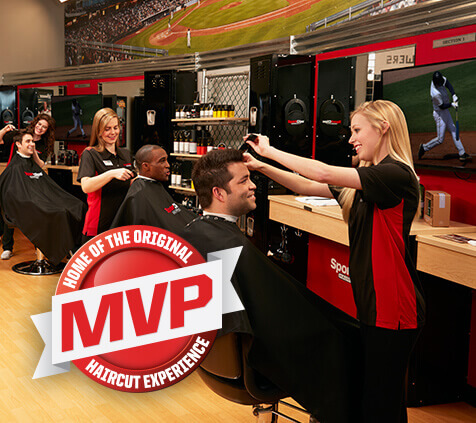 We offer relaxing amenities and our signature service, the MVP Experience, is a 20-minute, no-appointment necessary session that includes a precision haircut, legendary hot steamed towel, massaging shampoo, and relaxing neck and shoulder treatment. And now clients can check in online for their next mini Man Break anytime, anywhere! It's convenient, flexible and saves clients time for their next haircut.
In its 26th year, Sport Clips' continues to build momentum and show strength as one of the top franchises, as demonstrated in our fourth year we've been ranked in the top 20 and the seventh year to be in the top 50 in the highly regarded Entrepreneur Magazine "Franchise 500".
We remain focused on the client experience, technology, stylist recruitment and operations…all efforts that demonstrate Sport Clips continued dominance as a leader in the haircare industry and make investing in Sport Clips a foremost franchise opportunity. With more than 1,800 stores, Sport Clips is the only haircutting franchise with a presence in all 50 states and Canada.
Why is a Sport Clips Franchise a Great Investment?
A proven concept and simple, easy to execute business model
Men's haircare is the most efficient segment of the haircutting industry; with no chemicals and easier-to-execute haircuts
Recession-resistant – in good times and bad, hair grows
Stable, all-cash business with no receivables
Minimal inventory and no waste – unlike a restaurant franchise, nothing spoils
High loyalty and stability with clients returning every 3-4 weeks
Outstanding training and a winning team to support you every step of the way
A Business You'll Be Proud to Own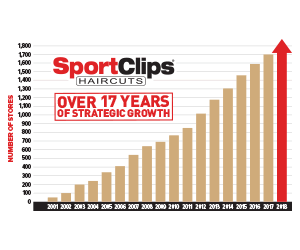 For entrepreneurs looking to build a business, Sport Clips is an easy-to-understand business model that's simple to execute while offering something every guy needs…a Championship Haircut Experience in an exciting sports environment.
You are investing in a business that allows you to have ownership while maintaining your current career.
You hire a manager to run the day-to-day operations while you keep your current job and build your Sport Clips business for the future.
Can You Imagine Your Life as A Sport Clips Owner?
We look for candidates with strong managerial and communication skills, who enjoy working with and developing people, and marketing their stores. As a Sport Clips owner, you will work with the manager and oversee multiple units. Your primary responsibility is to market your business and drive sales. Hair cutting experience NOT necessary. Net worth of $400,000 and liquid capital of $200,000.
Testimonials
"You really get what you give. With Sport Clips, you are in business for yourself but not by yourself. If you stay on course and follow Sport Clips' proven system, anyone can see similar success for themselves."  – Jeff Burroughs, Team Leader
"Since I have no experience in the haircutting industry, I was impressed how strong the franchise support was from training to coaching to even a National Huddle. Sport Clips' strong values, culture and brand sold us on this investment. The truly understand who they are, what they have to offer and how to win in the marketplace." – Dennis Guerrette, Team Leader
Sport Clips is currently accepting inquiries from the following states: Alabama, California, Colorado, Connecticut, Delaware, Florida, Georgia, Idaho, Illinois, Indiana, Kentucky, Louisiana, Maryland, Massachusetts, Michigan, Minnesota, New Hampshire, New Jersey, New Mexico, New York, North Carolina, Ohio, Oregon, Pennsylvania, Rhode Island, South Carolina, Tennessee, Vermont, Virginia, Washington, Washington, D.C., Wisconsin. ;