Philly Pretzel Factory Franchise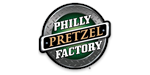 Philly Pretzel Factory - Food Retail Franchise
A great pretzel combined with support that feels like family.
Territory Information
Las Vegas
Total Investment:

$223,560 - $692,350
Liquid Capital:

$250,000
Other Areas Available

Opportunities are available throughout the USA.
Profile
Our Model is Simplicity
Simple Menu
We offer fresh "hot outta the oven" pretzels and a few other products such as pretzel dogs, pretzel cheesesteaks, pepperoni melts, and cinnamon pretzel twists. We make it as easy as possible to run our system, so we keep our product line limited.
Solid Support
We focus on providing unmatched franchise support through our Franchise Support Managers who work with you to maintain operation efficiency and build sales through store visits and consistent communication.
Proven Growth
Since our first franchise opened nearly 20 years ago, in-stores sales have continued to grow. In fact, 45% of franchise owners own multiple stores.
How We Get You Off The Ground
Opening a new business is a huge undertaking, but you don't have to do it alone. Our team is here to provide the support and training you need to ensure your store starts off strong and continues to grow.
Comprehensive Training
Online Pre-Opening Checklist
Real Estate Assistance
Construction Assistance
Onsite Store Opening Support
Access to Operations Manual
Access to Marketing Manual
Inclusion on Our Website
Support to Keep You Going Strong
Daily Field Support
Daily Field Support Company Intranet
Franchise Operations Committee
Mystery Shops
Annual Convention
Marketing Support
Purchasing Power
Community Involvement
Take the next steps to becoming a Philly Pretzel Factory owner by completing the short form below to request an information pack.