Massey's Agency Franchise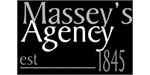 Massey's Agency - Domestic Staff Franchise
We are now looking for a Master Licensee to bring our unique brand and levels of service to the USA.
Finance requirements

Areas Available

USA
Profile
MASSEY'S AGENCY franchises are ready for entrepreneurs with the drive and need to succeed!
Join Massey's and build your future today!
ABOUT THE COMPANY
Massey's is the world's oldest household recruitment agency. We have been in business since 1845, and in all that time we've been supplying domestic staff to ultra-high net worth households across the US.
Domestic work is big business. This chance for you to run a franchise with us is your golden ticket to success.
With a large market that shows no signs of sizing down any time soon, Massey's is fortunate to be riding this wave and growing as a franchise.
WHY CHOOSE MASSEY'S AGENCY?
176 years of success and experience speak for themselves. We're not just a brand; we're a name.
People don't think of fast food; they think of McDonald's.
People don't think of search engines; they think of Google.
People don't think of domestic staff; they think of – you guessed it – Massey's.
Our name carries with it an impressive, hard-earned track record and our enviable reputation. You can be sure you'll have the backing, training and support of one of the finest brands in America.
You'll be your own boss, but you won't ever be stuck out in the cold. We help you when needed, as we know that your success is what builds Massey's success and vice versa. We're not just a franchise but a team built and designed to continue our accomplishments for another 176 years!
Build your own business but do it with our brand, our proven business model and our years of experience and know-how as your foundation. It'll be like running a marathon but with a ten-mile head start.
WHAT DOES MASSEY'S AGENCY DO?
We can sum up the ethos of our business – and the secret of its success – in three simple words:
Discretion
Professionalism
Experience
Many other businesses work in the domestic household sector, but none of them compares to our history, reputation or dedication to giving clients what they need. With our experience, we can often provide people with what they require before they even realise it themselves.
Massey's have been offering the peak of supplying domestic staff for decades, and that's a reputation we aim to keep by never resting on our laurels or taking anything for granted. If you can see ways to improve what we offer, we want to hear about it. Massey's is a franchise built on everyone in our network helping everyone else, so we all succeed.
BENEFITS
176-years of experience and the hard-earned reputation to go with it.
A proven business model that will give you the grounding you need from day one to hit the ground running.
A brand that carries weight.
Dedication to providing the finest quality and standard of service that any client could wish.
The support of a brand that means you're not on your own like you would be if you were an independent business.
FRANCHISEE REQUIREMENTS
Professional and experienced.
Track record in the recruitment industry.
Suitable personality type for this sector.