Home Clean Heroes Franchise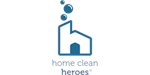 Home Clean Heroes - Cleaning Franchise
With Home Clean Heroes, you won't simply be running a cleaning business; you'll be running a top-quality franchise company that is yours.
Territory Information
Location:

San Antonio
Total Investment:

$97,924 - $120,037
Profile
HOME CLEAN HEROES franchises available now across the US.
HOME CLEAN HEROES is the home cleaning company that is taking things to the next level in a multi-billion-dollar industry!

ABOUT THE COMPANY
Home Clean Heroes is not just another run-of-the-mill cleaning company. In fact, we're a disrupter of the standard model. It's what has let us stand out in a crowded field and make a huge impact. We're not just a company; we're a recognised brand.
Our ethos is simple: We don't want you going into this feeling like a maid, but instead, realise that you are a Hero.
Instead of simply providing cleaning services to spare clients a tedious but necessary chore, we aim to bring a real difference to their quality of life. We work on simple schedules that are flexible, so as a result, we free up each client's timetable so they can do whatever it is they enjoy. Our Heroes clean but in an adaptable manner that makes life easier – and cleaner – for the people who hire us.
WHY CHOOSE HOME CLEAN HEROES?
Cleaning is big business in the US – $6 billion to be precise!
With Home Clean Heroes, you won't simply be running a cleaning business; you'll be running a top-quality franchise company that is yours and yours alone but with the full support and expertise of a recognised brand behind you every step of the way.
You will have the security of the Home Clean Heroes brand behind you while being independent and free to take control of your career in this highly profitable sector.

WHAT DOES HOME CLEAN HEROES DO?
Unlike many other cleaning companies, we don't approach our job as simply vacuuming the carpets and making sure people's homes are dusted once a week.
We make an effort to ensure Home Clean Heroes clients feel their time is being regularly freed up to use it how they want when they want and without our staff feeling like a necessary encumbrance.
At Home Clean Heroes, we go out of our way to make clients view you and your team as the Heroes who make life that much more straightforward and better. It's a small thing that makes a world of difference, as your clients will let you know!
BENEFITS

Regular repeat custom meaning multiple revenue streams that build over time.
Affordable start-up with low overheads.
Protected territories making it that much easier for you to get ahead.
Full training & support from our passionate and experienced team. We're there when you need us!
No previous experience required.
An evergreen business as you provide a service that is always in demand.
Flexibility allowing you to find a personal work-life balance that suits you.