Express Employment Professionals Franchise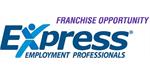 Express Employment Professionals - Staffing Franchise Franchise
The entrepreneurial franchise opportunity you've been looking for is here. And you've got what it takes.
Finance requirements

Total Investment:

$150,000

Minimum Investment:

$190,000

Areas Available

USA & Canada
Profile
#1 STAFFING FRANCHISE SEEK

NATURAL LEADERS & SKILLED RELATIONSHIP BUILDERS.
With an Express Employment Professionals franchise, you can put your well-honed business acumen to work. You'll pair people in your community with the jobs of their dreams—all while achieving yours.
INVEST IN YOURSELF, YOUR COMMUNITY, AND YOUR FUTURE WITH OUR B2B FRANCHISE.
No matter where you live, an Express franchise can answer a very real need—to help local businesses find qualified employees, and to help your neighbors find meaningful work.
OUR TEAM GIVES YOU EVERYTHING YOU NEED TO BE SUCCESSFUL.
One of our unique brand strengths is that our Headquarters handles payroll funding. We are essentially your back-office administrator, processing invoices and other important paperwork for clients. This allows our Franchise Owners to spend their time building relationships with local businesses in their community and doing what they do best.
FROM DAY ONE, WE HELP YOU DRIVE SALES THROUGH TACTICAL PROMOTIONS.
Reaching new clients is key to growth, and we help you plan, open, and grow your business with targeted marketing strategies as well as opening day planning and events.
GET INSIGHT AND ADVICE FROM FRANCHISE OWNERS WHO KNOW THE ROPES.
Our Express Franchise Owner community is an incredible resource as you work to establish your business. The average length of franchise ownership is 17 years—they stay because they love what they do.
THE NUMBERS ARE IN YOUR FAVOR
#1 Staffing Franchise
By Entrepreneur magazine
We consistently earn rave reviews for overall performance, support, and owner satisfaction.
35+
Years of Experience
Our leadership team has helped our brand dominate the industry and redefine success.
17
Years
Average tenure of Express franchise ownership.
800+ Locations
100% Franchised
With no corporate owned locations, our Express Headquarters team focuses entirely on Franchise Owner support, training and business growth.
100% Payroll
Funded by Corporate
Franchise Owners do not invoice clients. Back-office administrative and processing duties are managed by Express International Headquarters.
10
Times Zones
Our Oklahoma City Headquarters Franchisee Help Desk supports 10 time zones across 3 countries.
HELP PEOPLE FIND JOBS, CHANGE LIVES.
As an Express Franchise Owner, you are making a difference in your community by helping people find jobs and helping local businesses manage their workforce. The average Express office employs 600 people each year — it's work that matters and gives people hope.
Get in the Express lane. See how we can accelerate your path to business ownership.