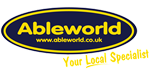 Ableworld - Mobility Equipment Retail Franchise
The UK's leading retailer in the ever-growing mobility sector. You will operate a retail outlet selling motorised scooters and mobility aids
Watch Video
Finance requirements

Total Investment:

Available on request

Minimum Investment:

£20,000

Areas Available

UK
Profile
Ableworld are the largest mobility retailer in the UK, providing quality products and services to the ever-growing elderly and disabled market.
If you are looking for a rewarding franchise you need look no further than Ableworld. A trusted brand with a proven business model, Ableworld (a member of the British Franchise Association) is expanding across the UK and is looking for franchise partners who wish to run an ethical retail business in a growing sector.
A Growing Franchise in a Growing Market
Ableworld is at the heart of one of the fastest growing markets in the UK. The government predicts that in just over ten years' time nearly 25% of the population will be over the age of 65. Products such as mobility scooters, stairlifts, adjustable beds, wheelchairs and home aids become will increasingly be in demand.
The Ableworld Franchise Package
An Ableworld Franchise gives you two viable, complimentary income streams.
Firstly there is the Retail Outlet - a Mobility Superstore which sells everything to help the elderly and disabled. Secondly there is the Stairlift Business which, using only high quality branded equipment provides homeowners with a variety of Stairlift options. Other highlights of the package include:
Comprehensive training and support
Exclusive use of the Ableworld™ brand within a generous territory
Lower than average fees
Help in negotiating the best property deal
Substantial marketing launch pack
Help in arranging finance and much more
The Support
Ableworld franchisees benefit from ongoing, dedicated franchise support from a professional and experience Head Office.
Ableworld is…
Unique among mobility retailers in being the only member of the British Franchise Association in their field.
We're proud to be a member of the BFA
"Proud to have created a trusted brand and take providing an ethical service very seriously. We are approved by a number of professional bodies including the National Association of Equipment Providers."
The investment
An Ableworld Franchise package is £29,950 and your business can be started with £75K. This can be financed by up to 70%* so you will need a minimum of £25,000 - £30,000 liquid funds available.
*We have affiliations with the main UK Banks who have specific lending packages available for Ableworld Franchisees (subject to their lending and security requirements).
Welcome to the franchise network…
Stuart and Jacky Simpson are the proud owners of the first Ableworld store in Scotland.
The couple saw franchising as "the most reliable route to success" and like a lot of individuals were "fed up with the grind and working for someone else." Their business is rewarding in more than one way:
"When I fit a stairlift, I can see that it has changed someone's life, and seeing the relief on their face is so rewarding"
Next Steps
For more information on franchising with Ableworld, please complete the short form below. In the comments box below please indicate the geographical area(s) you are interested in.
Videos
14 February 2022