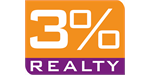 3% Realty - Real Estate Franchise
Full Service Real Estate Brand! No REALTOR's license required to OWN a franchise! SBA LOAN APPROVED
Watch Video
Finance requirements

Franchise Fee:

$42,000

Areas Available

USA
Profile
Claim your piece of a 1.6 trillion dollar a year industry in the US!
At 3% Realty, our brand offers consumers 100% Real Estate Agent Services and 100% REALTOR.com exposure at a fair and reasonable rate of commission. We charge a flat 3% of the selling price of the property. 
Our franchise fee INCLUDES a comprehensive starter package which will ensure a successful launch into your market. We provide quality leads, support, and best in class training. You can take confidence when purchasing a 3% Realty Franchise that we will set you up for immediate success with all the tools you'll need to launch in your new market.
With all of the advancements in technology over the last 10 years, combined with a highly educated consumer taking a "hands-on" approach, the conventional Real Estate Brokerage model is tired and inefficient. There is a clear disconnect between the amount of work now required by Real Estate Agents today, in relation to the high commissions charged. With home prices continuing to rise, 3% Realty fills the gap between higher priced commission Real Estate Agents and a do-it-yourself seller kit. 
At 3% Realty, our Real Estate Agents are tech savvy, paperless and extremely efficient, allowing them to focus more time on their clients. Our brand generates leads, which keeps our Real Estate Agents busy, current and focused.
We Believe in Being Different!
It won't take you long to notice that we are all about pushing the envelope when it comes to our marketing, branding and online presence. We have made our real estate offering simple, fresh and fun! From our award-winning marketing videos, to our custom shaped FOR SALE signs, everything we make is created to help you stand out! We recognize the best part about a franchise system is that everything is created for you to ensure you have the best tools for your success. We have been there and done it all before and understand exactly what works to accelerate our brand, especially in various markets. We know what it takes to penetrate new markets and experience unprecedented growth (448% to be exact, but who's counting?) We are always up for a challenge and welcome collaboration on new projects and initiatives at anytime! At 3% Realty we search for inspiring people to join our network and break the moulds of the old school commission model!
When it comes to the best value and the best quality of service, there is no need for compromise. Your clients can have it all for 3% commission!